Autonomous testing: Introduce testing bots and boost your efficiency & speed
Short description
The software testing industry advanced by introducing test automation over 20 years ago. But there is still far too much manual activity in test automation. Now it's time to move on: autonomous testing is the next phase in the software testing evolution. In my talk, I will explain where we currently are and where we can go with it.
Traditional testing approaches are not keeping up with nowadays development velocity and are hard to scale. We believed that test automation would be the solution to this problem. This belief has not been fulfilled. . . or at least it achieved less than was expected.
Problems addressed:
Introduction of autonomous testing

What is currently possible with it (what the bots can & can't do)

Introduction of autonomous testing in your organization
Talk language: English
Level: Advanced
Target group: Test Managers, CTOs, Senior Test Automation Engineers, Project Managers, Product Owners
Company:
Wopee Labs s.r.o.
Presented by: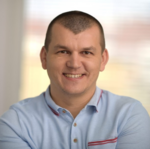 Ing Marcel Veselka